CNN Interview: Barbra Discusses Forthcoming Auction.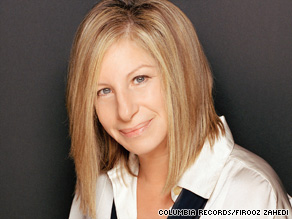 Barbra Streisand is auctioning off items she's had for years to raise money for her foundation.
(CNN) — Paintings, furniture, memorabilia and costumes owned by Barbra Streisand will be auctioned on October 17 and 18 by an auction house in West Hollywood, California.
The items include costumes worn on stage, in concert and on television by the award-winning singer and actress. All the proceeds will benefit Streisand's foundation, which has donated millions of dollars to charity over the past 23 years.
CNN entertainment reporter Kareen Wynter talked to Streisand about the auction and other things. This is an edited transcript.
Kareen Wynter: Why did you decide to auction off some items?
Barbra Streisand: We really never possess anything — I mean, not forever. We borrow things and then we let them go and be used and shared and enjoyed by the next generation and the next generation. So if you can't really use something anymore, even though it belonged to you for a long time and you loved it, it's great to pass it on. And especially if the proceeds go to my foundation, which invests in wonderful causes and organizations that help other people.
Wynter: … It really paints a story of your career here. It must have been hard to part with some of those items though.
Streisand: Yes. As a matter of fact, I've had that dentist cabinet since I was about 18. It was one of the first things I ever bought. I had it in my New York apartment for 35 years. Each little drawer contained treasures — miniature sewing things that held needles, I had a drawer for antique shoe buckles and drawers for ribbons, satin ribbons and grosgrain ribbons and beautiful antique ribbons, things like that. I kind of will miss it, but I can't really use it — I haven't got the space for it. And let someone else enjoy it now, you know.
Wynter: It must have been a big task, more than 500 items. Did you do it alone in terms of weeding through and saying, "I'm going to keep this, I'm going to auction this item"?
Streisand: Yeah. But it's been years preparing for this auction. And as a matter of fact, certain things I said, "Why am I giving that away? Wait a minute, it's back in style, actually." A couple of vests I took back, I said, "Wait a minute. We wear these now," you know, antique vests.
Wynter: … How much do you hope to raise here?
Streisand: You know, I never thought of it. I don't know. I haven't thought about it. I haven't put a monetary value on the stuff. See the catalog and read about how to bid on the items
Wynter: … You want to make sure that each item goes for as much money as possible, hey, if it's going to a good cause … [so] you took pictures with some of the items, for example the piano.
Streisand: … Yeah, that's my piano for many years, you know, 15 years I've had that piano, at least. Oh my God, no, it's probably much older than that. I probably got that in the '70s. That's a good piano. But the only reason I'm selling it is because I gave my original piano, that I bought in the '60s in my New York apartment, to my son Jason. And then he sold his New York apartment and I didn't want to let that one go, since it's a Steinway and it has a beautiful sound, so we just exchanged pianos.
Wynter: … Switching gears for a bit, tell us about your new album and the success it's already receiving.
Streisand: I'm in shock, really. It's quality music. The songs are wonderful, by great composers and lyricists. I didn't think it was in fashion anymore, but I'm so happy that people still have ears for good melodies and words that seem to move people emotionally. I'm just kind of amazed and thrilled to be No. 1, ahead of all this rock music that's right after me. It shows you something, doesn't it. It's just a wonderful surprise. It's a thrill. …
Wynter: [Returning to the auction], I love "Meet the Fockers," one of my favorite films, and so it was great seeing the jewelry and all of the costumes [from the film]. And each item really has a story behind it.
Streisand: One of those dresses — they forgot to print it in the catalogue — is by Zandra Rhodes. The kind of crazy, shocking-pink one. It was fun to dress for her [her character, Rozalin Focker], I must say. It was a throwback to the '70s and some of those things are back in style, I swear to God. You hold on to something long enough, it comes back in style.
Wynter: Tell us about the concert dress.
Streisand: The black velvet one, from my first concert? I designed that with Donna Karan. She had this wonderful black stretch velvet. You know, I have to be able to sing and breathe in these clothes. I can't have stays or anything. So stretch velvet is the answer. … I love that gown.
Wynter: And also the robe from "The Way We Were."
Streisand: Yeah, isn't it something? I just built a clothes closet for just antique clothes and I don't have any more room for things, basically. You know, you keep some things and you share the rest. That's why we're having an auction.
Wynter: But no second thoughts? …
Streisand: Well, I do have second thoughts, but it's okay. (laughs)
Wynter: … I saw the photo of you and President Obama. … I'd love your thoughts on how you think he's doing so far.
Streisand: I think he's doing as well as could be expected. I mean, after eight years of taking this country, running this country into the ground, it's a pleasure to see someone who really thinks and is articulate and caring and is bringing back respect to our country from around the world. And he can't solve these problems overnight — health care and climate changes, these are very big issues. And he's dealing with a lot of people who are just trying to pull him down, and I think he has to be given a chance.
Wynter: And a big day for him, being honored with the Nobel Peace Prize.
Streisand: That was thrilling too.
Wynter: What were your thoughts on that?
Streisand: I think Bill Clinton should get one too, for all the things he does for people around the world. I'm glad for our country, I'm glad for this president that he was awarded this. And I think it's a foretelling of the future. I do, because he's weighing these options very heavily. The Iraq War was such a mistake. But I'm not an expert on any of these things, so I'd rather just keep talking about the auction or my record.
You can watch a video of the auction here: http://edition.cnn.com/video/#/video/showbiz/2009/10/10/wynter.streisand.auction.walk.cnn?iref=videosearch